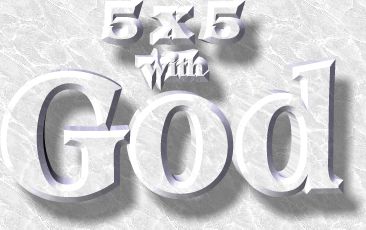 5 Minutes a day / 5 Days a week
with God
Wednesday
---
---
Rev 21:7-8

"He who overcomes shall inherit all things, and I will be his God and he shall be My son. "But the cowardly, unbelieving, abominable, murderers, sexually immoral, sorcerers, idolaters, and all liars shall have their part in the lake which burns with fire and brimstone, which is the second death."



"Your born, you pay taxes, and then you die."

Have you ever heard this saying before? But did you know that there is more to life and death than that? Life is more then paying taxes (although it may not seem like it if you just did your taxes the last minute today.). But there is much more to life then that; we all know that.

But did you know that there is more to death then just dieing?
That's right, read it for your self in today's devotional.

"Shall have their part in the lake which burns with fire and brimstone, which is the second death."

So what is this second death and will we all have to experience it?
I know I wont, because I have eternal life in Jesus Christ, and neither will you if you have accepted Jesus as your Lord and Savior as well.

But maybe you are not a Christian, or you know those who are not Christians. Will you, or they have to experience this second death? According to scripture, the answer is yes.
When we think of hell, we think of it as the final place that non-believers go to when they die. But the truth is that this is not the final place.

The one word for hell is Hades. This is where non-believers go when they die.


Luke 16:22-23 "So it was that the beggar died, and was carried by the angels to Abraham's bosom. The rich man also died and was buried. "And being in torments in Hades, he lifted up his eyes and saw Abraham afar off, and Lazarus in his bosom.


Notice it says "torments" plural, more then one torment. The meaning of torment is torture, the pains of a disease.

But Jesus warns of another place, which is even worse.


Mark 9:43-44 "If your hand causes you to sin, cut it off. It is better for you to enter into life maimed, rather than having two hands, to go to hell, into the fire that shall never be quenched-- "where
'Their worm does not die,
And the fire is not quenched.'


The word Jesus is using here for hell is: geenna (gheh'-en-nah), which represents an eternal burning. Which is the place where non-believers go to after God judges them for the things they have done on this earth.


Rev 20:11-14 Then I saw a great white throne and Him who sat on it, from whose face the earth and the heaven fled away. And there was found no place for them. And I saw the dead, small and great, standing before God, and books were opened. And another book was opened, which is the Book of Life. And the dead were judged according to their works, by the things which were written in the books. The sea gave up the dead who were in it, and Death and Hades delivered up the dead who were in them. And they were judged, each one according to his works. Then Death and Hades were cast into the lake of fire. This is the second death.


Delivered from Hades to the lake of fire, or geenna.
So if you have accepted Jesus as your Lord and Savior, don't lose any sleep over this for yourself. But if you know those who are not believers, I would encourage you to warn them of the eternal punishment they are facing without Jesus.
And if you are not a believer in Jesus Christ, I warn you now of what lies ahead if you continue to reject Jesus! Or as the word of a Christian song goes, "They don't serve breakfast in hell"

But in Heaven we will be feasting!


Rev 19:7-9 "Let us be glad and rejoice and give Him glory, for the marriage of the Lamb has come, and His wife has made herself ready." And to her it was granted to be arrayed in fine linen, clean and bright, for the fine linen is the righteous acts of the saints. Then he said to me, "Write: 'Blessed are those who are called to the marriage supper of the Lamb!' " And he said to me, "These are the true sayings of God."


I pray I will see you all in heaven at the Lord's Table!


---
Select from over 700 past devotionals
Past Devotionals Old Testament
Past Devotionals New Testament
E-Mail
Home Page
---